Our Wellin5 counselling team is dedicated to supporting you through all of life's challenges.
Learn more about our counsellors and get the support you need today.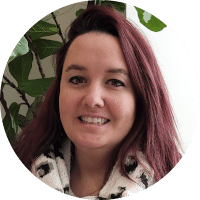 Hi! My name is Stephanie and I have a Masters Degree in Counselling Psychology, as well as a post graduate certificate in Addictions: Treatment and Prevention. I am a Registered Psychotherapist with the College of Registered Psychotherapists of Ontario (License #10173). I have been providing therapy for 4 years and have additional lived experience which I believe makes me very down to earth and relatable.
I've known I wanted to help others my whole life, and have been told that I am very genuine, non-judgemental, and caring. I encourage my clients to be themselves in our sessions as I do so myself. I specialize in treating individuals over the age of 18 who are dealing with Anxiety, Depression, Stress, Addiction, Relationship Issues, Grief, and Self Esteem Issues. I also have experience treating those who have been involved in motor vehicle accidents.
I look forward to providing a safe space to listen to your concerns. Together, we can embark on a journey that is mutually agreed upon to help you grow from your struggles, heal from your pain, and move forward to where you want to be in your life.
Specialties
Addiction, Anxiety, Depression, Digital addiction, Grief and loss, Health issues, Life transitions, Mindfulness, Non-familial relationship issues, Relationship issues, Self-esteem, Social media issues, Stress or burnout, Work issues
Therapeutic Approaches
Cognitive Behaviour Therapy, Life Stress Reduction, Mindfulness and Relaxation, Mindfulness-based Cognitive Therapy, Solution-focused Therapy, Motivational Interviewing
Provinces
Alberta, British Columbia, Manitoba, New Brunswick, Newfoundland and Labrador, Northwest Territories, Nova Scotia, Nunavut, Ontario, Prince Edward Island, Quebec, Saskatchewan, Yukon
* Counsellor availability subject to change
What Our Clients Are Saying...

Amazing counsellor. I found her instantly easy to talk to, she had a positive approach that is very encouraging.
- Debra


Having someone to talk to and help you navigate thoughts and challenges in life.
- Sierra


Stephanie has been a knowledgeable and compassionate therapist, a great listener and has helped me be less hard on myself through our sessions. She helps me remember the positive during a difficult journey.
- Deb