Our Wellin5 counselling team is dedicated to supporting you through all of life's challenges.
Learn more about our counsellors and get the support you need today.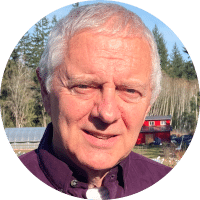 Hi, my name is Paul and I look forward to meeting and helping you. In my experience, everyone can benefit from counselling whether to support major change or just help with issues that stand in the way of living the life you want.
I came to counselling after a lifetime of interesting careers and find this one the most exciting of all. It feels great to help people in meaningful ways and see them grow because of the new choices they make. I was a client myself and chose to become a counsellor out of respect for the process and those who helped me.
Together with my wife, I live on my son's organic farm on the BC coast, sometimes even helping with the chores. I love to kayak and, along with skiing and running, manage to keep myself in good physical trim.
I enjoy working with a variety of clients and have great respect for their commitment and dedication to change, even when the work is challenging.
When you feel ready, I encourage you to book a session with me so we can explore your journey to wellness together. I look forward to meeting with you soon.
Sincerely,
Paul McIsaac
Specialties
Anxiety, Depression, Anger, conflict resolution, Grief and loss, Health issues, Stress or burnout, Life transitions, Men's issues, Mindfulness, Self-esteem, Separation, divorce, prevention, Trauma recovery, PTSD, Work issues, Relationship issues, Spirituality, Addiction, Couples Counselling, Bipolar Disorder Issues
Therapeutic Approaches
Behaviour Therapy, Cognitive Behaviour Therapy, Life Stress Reduction, Mindfulness and Relaxation, Person-centred Therapy, Solution-focused Therapy, Spiritually-integrated Psychotherapy, Existential Therapy, Lifespan Integration, Mindfulness-based Cognitive Therapy
Provinces
British Columbia, Manitoba, Newfoundland and Labrador, Northwest Territories, Nunavut, Ontario, Prince Edward Island, Saskatchewan, Yukon
* Counsellor availability subject to change
What Our Clients Are Saying...

It was such a lovely session. I feel like I can breathe again. I'm filled with positive energy, helping me see my life in a different light. Things suddenly made sense and lifted a tremendous weight from my shoulders. I'm very grateful to have found Wellin5.
- Nadin


Paul came across as a kind and caring counselor. He was very easy to talk to and his gentle nature made it easy to open up and discuss things that I might not normally share. At no time during the sessions I had with him did I feel like he was judging me, in fact, I felt like he actually cared.
- Logan


Great session with Paul the counsellor, he comes with great experience and the advice provided was very resourceful and I will like to book another session with him.
- Joseph