Our Wellin5 counselling team is dedicated to supporting you through all of life's challenges.
Learn more about our counsellors and get the support you need today.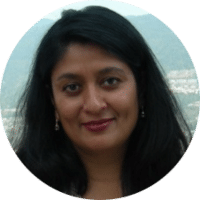 Hello, my name is Farah Haq and I am a registered clinical counsellor. I would like to invite you as a client. My counselling practice includes child, youth, individuals and couples. Anyone who has experienced life challenges, trauma or grief in life, or those who are struggling to reconfigure their coping skills; are welcome...
I believe that regular counselling support can take us on a path of a more fulfilled life. I work with the belief that we all need to move on ahead in life with positive changes, enhanced personal understandings, and increased acceptance of our presence in life.
I offer a culturally inclusive, non-judgmental, and unbiased space where you can explore your thoughts and feelings regarding life challenges. If you choose me as your counsellor, I can help you resolve your triggers, and be more in control of your emotional well-being.
I like to think of myself as a lifelong learner of psychology. Being a counsellor is a passion, and privilege to me. I love to be a part of the cheering crowd as my clients continue on their marathon of life.
I have been a counsellor for over a decade. My therapeutic foundation is an integration of Cognitive Behaviour Therapy (CBT), Dialectical Behaviour Therapy (DBT), Solution-Focused, and Person-Centred. I am also a registered Grief Counsellor and a Family Therapist. In addition to English, I can speak three Asian languages; Urdu, Hindi and Punjabi.
Outside of work, I enjoy reading books, listening to music, and spending time with family. I am also in the process of completing my PhD Psychology degree
I understand that booking the first session for counselling can be difficult. But I would like to remind you that all journeys start with a small but courageous initial step.
Specialties
Abuse or violence, Anger, conflict resolution, Anxiety, Co-parenting, Couples Counselling, Depression, Family issues, Grief and loss, Health issues, LGBTQ+ issues, Life transitions, Loneliness, Mindfulness, Non-familial relationship issues, OCD/Obsessive Thoughts, Post-Partum, Relationship issues, Self-esteem, Separation, divorce, prevention, Spirituality, Stress or burnout, Trauma recovery, PTSD, Work issues
Therapeutic Approaches
Art Therapy, Cognitive Behaviour Therapy, Dialectical Behaviour Therapy, Family Systems Theory, Life Stress Reduction, Mindfulness and Relaxation, Mindfulness-based Cognitive Therapy, Person-centred Therapy, Solution-focused Therapy, Trauma Therapy
Provinces
Alberta, British Columbia, Manitoba, New Brunswick, Newfoundland and Labrador, Northwest Territories, Nova Scotia, Nunavut, Ontario, Prince Edward Island, Quebec, Saskatchewan, Yukon
* Counsellor availability subject to change
What Our Clients Are Saying...

I was matched with a counselor I felt like I immediately connected with. I felt heard, validated, and like I was given tools to really improve my life. I was weary about returning to therapy, but giving Wellin5 a try was such a great decision -- I'm already looking forward to my next session!
- Tiana


She was accepting and nonjudgmental.
- Sami


My experience has been amazing. I was matched with such a great counselor. I would start my session with negatively but end off in a better place.
- Anonymous