Our Wellin5 counselling team is dedicated to supporting you through all of life's challenges.
Learn more about our counsellors and get the support you need today.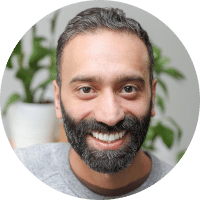 Hi there, my name is Chris and I've been working as a counsellor for 10 years. At the heart of my work is empathy and compassion, and I aim to support clients with patience and a client-focused lens.
In my practice, I apply a Solution-Focused approach , and tend to integrate Cognitive Behavioural Therapy (CBT), Motivational Interviewing (MI), and aspects of Emotion Focused Therapy (EFT) . Furthermore, I like to include mindfulness techniques when suitable.
In terms of my clients, they come from diverse ages and backgrounds, and typically have concerns with depression, anxiety, self-esteem grief, work-related stress, and addictions. I am also experienced with clients who identify as LGBTQ+.
Thank you for taking the time to read about my experience, and I invite anyone who feels "stuck" and finding it difficult to move forward to book with me. I'm here to listen and to collaborate with you on finding better ways to manage and making changes that are both positive and long-term.
Specialties
Addiction, Anxiety, Depression, Family issues, Grief and loss, LGBTQ+ issues, Life transitions, Loneliness, Men's issues, Mindfulness, Relationship issues, Self-esteem, Stress or burnout, Work issues, Anger, conflict resolution, Digital addiction, Non-familial relationship issues, Social media issues
Therapeutic Approaches
Person-centred Therapy, Cognitive Behaviour Therapy, Dialectical Behaviour Therapy, Emotionally Focused Therapy, Mindfulness and Relaxation, Motivational Interviewing
Provinces
Alberta, British Columbia, Manitoba, New Brunswick, Newfoundland and Labrador, Northwest Territories, Nova Scotia, Nunavut, Ontario, Prince Edward Island, Saskatchewan, Yukon
* Counsellor availability subject to change
What Our Clients Are Saying...

Are you in need for a reboot? For someone helping you find your way again? Listening to you and give you guidance? Wellin5 can be your answer.
- Anonymous


I originally didn't know what to expect and have never done in person counselling before because I felt a bit shameful sharing in person. However, doing it remotely online was very easy and I was able to open up.
- Anonymous


Love the convenience of this service and the affordability! The counsellor I was matched with is a good fit for me.
- Nicole