Our Wellin5 counselling team is dedicated to supporting you through all of life's challenges.
Learn more about our counsellors and get the support you need today.
Anita Kapdee-Penner
MC, RCC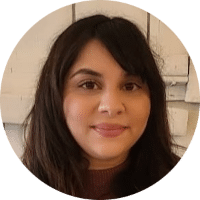 Welcome! My name is Anita Kapdee-Penner, and I have been a Registered Clinical Counsellor for individuals of diverse ages, genders, ethnicities, sexual orientations, socioeconomic status, religions and cultures for the past seven years.
I believe anyone can have the life they want, but when they feel broken and their inner wisdom becomes obscured, I am here to help them find peace and clarity. I will provide one with tools to help cope, gain self-worth, and instill life-lasting changes in their life.
Each client receives a customized treatment plan. I like to use an eclectic approach to cater to one's needs. My modalities include, but are not limited to: CBT, narrative, attachment, ACT, existential, humanistic, EFT, solution-focused and mindfulness approaches.
In my spare time, I like to write, travel, go on adventures with my husband, spend time with my family and friends, volunteer, and play with my rescue dog and cat.
It is my privilege to share the journey with my clients during their difficult times and witness the positive changes in their lives through therapy. I invite you to reach out to me.
Specialties
Abuse or violence, Addiction, Anger, Conflict Resolution, Anxiety, Depression, Digital addiction, Grief and loss, Health issues, Life transitions, Loneliness, Mindfulness, Non-familial relationship issues, OCD/Obsessive Thoughts, Pre-marital/co-habitation counselling, Relationship issues, Self-esteem, Separation, divorce, prevention, Spirituality, Stress or burnout, Work issues
Therapeutic Approaches
Acceptance and Commitment Therapy (ACT), Behaviour Therapy, Cognitive Behaviour Therapy, Emotionally Focused Therapy, Existential Therapy, Family Systems Theory, Life Stress Reduction, Mindfulness and Relaxation, Mindfulness-based Cognitive Therapy, Motivational Interviewing, Person-centred Therapy, Solution-focused Therapy, Spiritually-integrated Psychotherapy, Trauma Therapy
Provinces
Alberta, British Columbia, Manitoba, New Brunswick, Newfoundland and Labrador, Northwest Territories, Nova Scotia, Nunavut, Ontario, Prince Edward Island, Quebec, Saskatchewan, Yukon
* Counsellor availability subject to change
What Our Clients Are Saying...

Anita is helping me work through a very rough present and past. She is compassionate, caring, understanding and wise. I leave each session with tools to cope with my situation and a better understanding of myself. I did not enjoy my last online therapy experience (not Welln5) and thought it was because it was online but it's clear to me now I just hadn't found the right therapist yet.
- Lisa


I find Anita to be easy to talk with and I always feel heard. The Wellin5 appointment system is user friendly even for someone, like me, who isn't tech savvy.
- Denise


It's hard to admit when you need help, so its nice to get it from the comfort of home.
- Rebecca